---
Dacht t zelfde. Smet op een icoon de mustang en om dan ook nog de gelaureerde aanduiding mach 1 te verkrachten voor zo'n opgevoerde bipsbrommer
---
Misschien kunnen we ze aanklagen vanwege heiligschennis
---
Ze hadden het geen mustang moeten noemen, als porsche de cayenne een 911 had genoemd was het ook drama.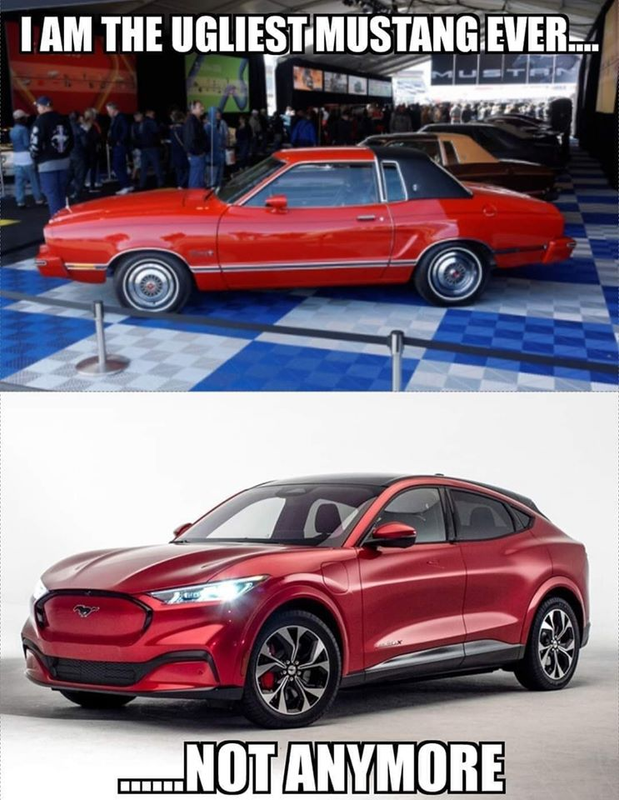 ---
Crowd control
Posts: 13045
Joined: Mon Feb 02, 2004 3:39 pm
Een electrisch hobbelpaard met een zeiksnor.
Iemand is de afdeling die de voorkant zou moeten maken vergeten de productie-deadline door te geven...

En de andere afdelingen ook eigenlijk....
---
Dat Dodge een vierdeurs Charger gebouwd heeft was al een tricky ding, dat hebben ze gecompenseerd door er een R/T-versie van te leveren met een flinke hemi.

Maar Ford slaat toch echt finaal de plank mis met het verkrachten van iconische namen hiero.

Had dan een echte Mustang geleverd met dikke gillende elektromotor. Of noem je lelijke saaie electrische x-over suv een Focus eX of zo. Maar dít…?

Alle Henry's draaien zich om in hun graf.
---
Crowd control
Posts: 13045
Joined: Mon Feb 02, 2004 3:39 pm
Denk dat als ze ole' Henry nu nog met koperdraad zouden omwikkelen dat ie nu als electromotor/generator in zn kist kan functioneren...
---
Waarom ze de naam Mustang verkracht hebben is me een raadsel. Een totaal ander publiek ook, echt onbegrijpelijk.
Een steek richting Tesla (aangezien het toch min of meer een kopie is) was slimmer geweest, had 'm de Ford Nikola genoemd. Bekt ook nog 'ns lekker.
---
Posts: 4202
Joined: Wed Feb 20, 2008 9:06 pm
vind ook eigenlijk dat die troep hier niet huis hoort
---